 Back
CREATING A BUZZ, Meet David Firestein

Back
---
Meet David Firestein, the alum who helped introduce Starbucks to New York City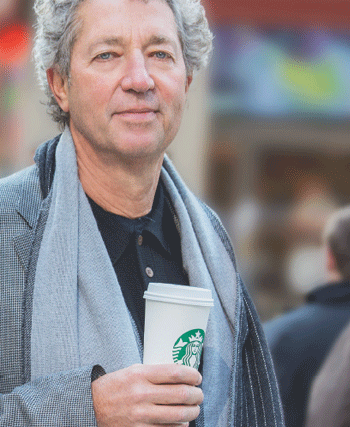 PHOTO: ERIN PATRICE O'BRIEN
David Firestein (ADL '72) brought the first Starbucks to New York City in 1994 after winning over company executives at a national industry convention. As the chain's exclusive New York leasing agent, he has had a hand in every Manhattan Starbucks since—more than 200 at last count. As managing partner of The Shopping Center Group's New York offices, Firestein helps companies from retailers to movie theaters find and lease locations. Firestein has an MBA from the University of Massachusetts. He's also active with Case Western Reserve, where he met his first wife, Jody Sandhaus (WRC '73). Last year, he created a music department scholarship in her memory.
QHow did you and Starbucks get together?
ADavid: I'm not even sure if I'd heard of them. [An acquaintance] reached out and said: "These guys are from Seattle, and they're really big out on the West Coast. You should look them up." When I started working for them, they probably had around 250 stores, period. Now they're up to 20,000. I'd like to say I saw it coming, but I really didn't.
QWas your first Starbucks deal actually in Manhattan?
ADavid: It was at 87th and Broadway. We've had a really good run with them. I don't hide that they're my favorite. My other clients accept that. My vanity plate [on his silver-gray Lexus 350] is SBUX1, the Starbucks stock symbol.
QWhy is Starbucks your favorite? Was it your first major client?
ADavid: My [first] biggie was the AMC Theater on 42nd Street, which was before Starbucks, and is the highest-grossing multiplex in the country. Starbucks, for me, was about the brand. The company and the people were and are passionate about the coffee and what they do. They reinvented a very old product and made it something new and exciting. I caught the passion and the fever.
QWhat's your standing Starbucks order?
ADavid: It depends on the time of the day. If it were this time of day [about 3 p.m.], it would be a grande half-caf skim cappuccino. I get the half-caf in the afternoon. I'm high-test in the morning.
QWhen you go to Starbucks, do you use a special card?
ADavid: No—everybody thinks I do, but I don't. I pay strictly retail. But I own the stock too, so I tell myself, "Well, at least it's going to the right place."
QYou're from Rhode Island (by way of Baltimore), so how did you end up at Case Western Reserve?
ADavid: I had my heart set on going to the University of Rhode Island. I applied to Case Western Reserve, and my mom convinced me to at least go and visit. A friend of mine from high school was there, so when I went out, I spent the day with him. It swung me over. Give credit to my mom. She got me to go, and it won the day. I was there from 1968 to '72. Those were interesting years.
QI've read there were war protests on campus. Did you participate?
ADavid: Yeah, we did, absolutely. I was very into political science and history, and I was actively involved in a lot of that. We had great people in those years come to campus to speak. Jane Fonda spoke. Muhammad Ali spoke in the gym. He wasn't boxing anymore, and I bet he drew only 100 people.
QHow does a history major become a real estate guy?
ADavid: If it were a different time, I would have taken some business courses. It was very political and we were kind of anti-business. I was the kid who had the lemonade stand and shoveled snow and was always entrepreneurial, so I definitely had the instinct to do it. But I think I was a little bit slower getting there because it felt politically incorrect at the time.
QWhy real estate? Why does it "speak to you?"
ADavid: I love retail real estate. When the deals are done and open, I get to visit my stores, some of which were done 10 or 20 years ago. I also own properties, also mostly retail. My best friends from CWRU, Jim "Great Neck" Richman (ADL '72), is a partner in six deals with me; Alan Rosenberg (ADL '72) and Roger Roisman (ADL '72) are both in deals with me, too. Roger was my roommate freshman year; Alan sophomore year; and the four of us shared a house senior year in East Cleveland.
QYou've recently become more involved with the university. What prompted that?
ADavid: "Great Neck" was involved with both CWRU and the [Rock and Roll] Hall of Fame. Alan was involved with CWRU, both directing and teaching in the theater program. I went back [in 2009] to visit with them, and that is what got me to reconnect.
QDo you still have a map of pushpins in your office to track your Starbucks deals?
ADavid: Yeah, that's really old school. It's on the wall, and I'm probably at least a dozen Starbucks behind. I'm glad you reminded me. I'll probably have to catch up with the last 10 or 12.
Original article appeared here.