 Back
Mixed-Use Owners in Northeast Face Retail Tenancy Dilemma

Back
---
Mixed-Use Owners in Northeast Face Retail Tenancy Dilemma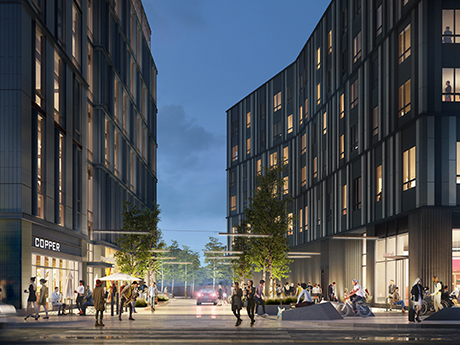 By Taylor Williams
As the pandemic recedes from the minds and wallets of American consumers, the food and beverage (F&B) industry finds itself embroiled in a host of new financial problems, driven this time by pure economics rather than public health.
Inflation and supply chain disruption are working both in tandem and within independent channels to bring new hardships to the sector, mainly in the form of elevated costs and delayed timelines for operating and expanding restaurants of all types. At the same time, F&B owners and operators finds themselves awash with pent-up demand to dine out, drink, socialize and enjoy entertainment attractions and activities. Meanwhile, across the Northeast, quality F&B spaces that went dark during the first 18 months of the pandemic have largely been reabsorbed.
That confluence of circumstances encapsulates major incentives and opportunities for landlords to raise rents. Add in the fact that these property owners have in many cases been operating on deferred, reduced or restructured rent payment schedules for much or all of the last two years, and the move to push F&B rents is even more justifiable.
For owners of traditional retail product — from power centers to neighborhood strip malls to single-tenant, net-leased assets — the situation is somewhat simpler. In the current environment, there is considerable upshot to targeting established, creditworthy and liquid retailers, i.e. — national brands.
All factors being held equal, tenants backed by major capital sources with tried-and-true brands, products and services can better afford escalating rents and commit to lengthier lease terms with standard increases baked in. And since shoppers and diners at these properties tend to be more mission-driven, landlords often consider this a sensible and acceptable strategy to pursue.
"The balance between national and local tenancy is what keeps centers interesting at all times," says Jamie Sackeim, senior vice president in the New Jersey office of The Shopping Center Group, an Atlanta-based brokerage firm.
"Some landlords think in terms of keeping the special tenants for the long term and keeping the center fresh and active with customers who would be seeking new types of eateries, as opposed to having the same national tenants as everyone else," she continues. "But people also want new flavors. In New Jersey, we've seen new concepts coming in, but a lot of those deals are going to downtown or mixed-use developments as opposed to regular shopping centers."
But owners of mixed-use developments with strong retail components face a more complex dilemma. The trendy, happening, be-seen-here vibe that pervades successful mixed-use projects is a big part of their draw, and consequently what gives their owners more leeway in charging premium rents. But the inverse of that dynamic is that without the right lineup of unique local concepts that have devoted armies of social-media-savvy followers, that vibe can quickly cease to exist.
"Most landlords with mixed-use developments want to entertain both; though national tenants are more creditworthy and provide a center credibility with consumers, they don't necessarily differentiate the center," says Sackeim. "But it's harder for local tenants to pay the rents that new construction demands, as opposed to second-generation space that may already have some of the equipment in place."
And of course, it's these soft goods and F&B users that are in the relative infancy of their life cycles and often not in financial positions to pay these rents. Further complicating the matter is the fact that local operators face perhaps an even greater disadvantage than their national counterparts in attracting and retaining labor. This crucial driver of operating costs is not a derivative of the current inflationary environment, but more so a holdover from the pandemic.
"Rents are skyrocketing for the most in-demand retail spaces and slowly forcing local tenants out of consideration, though part of that is the natural evolution and progression of infill retail," says George Banks, founder of Revel, an Atlanta-based development firm that provides retail consulting services across the country. "Inflation causing rents to go up will exacerbate the replacement of local tenants with national tenant at in-demand retail locations across the country."
Banks, whose firm often partners on projects with larger mixed-use developers, points out that on some level, landlords have a fiduciary responsibility to work with tenants that can afford top-tier rents. Particularly with mixed-use destinations, where the inclusion of the niche retailers and restaurants that drive placemaking is so crucial, this financial obligation can upend the stated goal of recruiting locally based boutique operators.
"Developers say they want to have that healthy mix of local and national retailers," Banks notes. "But if the local tenant can only pay $40 per square foot, and the national tenant can pay $70 per square foot, is the owner really adhering to fiduciary responsibility by turning down the user that can afford that higher rent?"
The fiduciary obligation is more acutely visible with stabilized mixed-use properties with active construction loans. Those owners don't have the luxury of allowing time or other market forces to modulate rents such that the perfect local tenant can afford the space.
But with mixed-use projects that are still in their predevelopment and permitting stages, there tends to be a little flexibility. The same holds for projects at which the retail/F&B component comprises a smaller proportion of the overall square footage.
Playing to Size
Brad Zackson is director of development at New York City-based Dynamic Star LLC. The company is the master developer of Fordham Landing, a 2.8 million-square-foot waterfront project in The Bronx. With only about 150,000 square feet of retail and restaurant space to worry about and the formal construction process still a ways off, Zackson says that Dynamic Star can be more aggressive about pursuing local tenants, even as rents skyrocket across New York City.
"We believe in local retail now even more than we did a year ago," he says. "Rental rates for outdoor retail and restaurant spaces in the outer boroughs, particularly for waterfront locations, have exploded. We plan to do incubator, percentage leases with retailers to help them grow, which we're able to do via the size of the project. So we don't need to charge absolute top dollar per square foot for a space that could potentially choke the restaurant."
Zackson identifies the site's mile-long waterfront as the element that will anchor the retail, restaurant and entertainment scenes. In addition to physical storefronts and ample outdoor gathering, dining and event spaces, this commercial waterfront district of Fordham Landing will offer rental boats for fishing and sightseeing, as well as kayaks and paddleboards, to the general public. Boat owners can also temporarily rent spaces to access and exit the site via the water.
In conceiving the waterfront piece of the project, Dynamic Star turned to architect Stan Eckstut, who designed The Wharf, a mixed-use waterfront destination in Washington, D.C. Zackson points out that The Wharf, which he describes as tremendously successful, has very few national brands — Ben & Jerry's, Bartaco and Shake Shack among them — on its F&B roster. "Everything else is local to Washington, D.C. vendors, especially for the F&B components, and that's a model that we're trying to follow," he says.
While Dynamic Star is still in the planning and approval stages of Fordham Landing, the company has had discussions with Salsa Con Fuego, a concept that combines fine dining with nightclub dancing. The developer is in discussions with the tenant, which has about two years before its current lease expires, to add a dance/entertainment club that will be a key piece of the programming and activation of Fordham Landing.
"The goal is to create an interesting place such that when people eat at a restaurant there, they're part of the whole entertainment package," Zackson explains. "It speaks to how retail is really important to the culture of a project and to the social lives of tenants and patrons."
A similar size advantage exists at USQ, a 2.7 million-square-foot mixed-use project in the Somerville area of Boston that is being developed by US2, which is a joint venture between Magellan Development, RAS Development LLC, Cypress Equity Investments and USAA Real Estate. The project is centered around the new Union Square MBTA Green Line station that opened in March as part of a $2.4 billion public transit expansion initiative.
Construction of Phase I of USQ includes a 200,000-square-foot life sciences building and a 450-unit multifamily building, both of which will house ground-floor retail space and are slated for delivery in late spring/early summer of 2023. Greg Karczewski, president of US2, says the retail component of the USQ master plan, which comprises about 140,000 square feet, functions first and foremost as a vehicle to support and grow local businesses as well as to serve local employees and residents.
"Our goal is to provide a mix of uses that not only addresses service needs in the neighborhood but also expands the retail base that's already present here," he says. "Everything we're thinking with retail involves continuing to help those local businesses thrive and add to the vitality of the neighborhood."
In true mixed-use fashion, USQ will feature both independent local tenants and regional users, as well as three acres of public open and green spaces that will host regular events and social activities. The joint venture also specifically tapped Boston-based brokerage firm Graffito SP to lease the retail component of USQ due to the company's extensive experience in working with and growing the businesses of local operators.
"We want to ensure that we're activating the ground floors of every building by creating strong and vibrant public spaces and environments," says Karczewski. "The retail component of the project is essential in activating those spaces and providing a connection between the public and outdoor spaces and the buildings themselves."
Just north of Boston, the community of Salem, New Hampshire, will soon celebrate the one-year anniversary of Tuscan Village, a 3 million-square-foot shopping, dining and entertainment destination. The developer, Tuscan Brands, is also adding a significant residential component to the 170-acre site.
Phase I of Tuscan Village debuted last Memorial Day and is currently 95 percent leased. Highlighted by a slate of events such as firework shows, live music, gondola rides and a 5-K race, the opening weekend reinforced the importance of mixed-use developers providing strong activation programs for locally based operators.
"These activities strengthen the emotional connection between the consumer and the property, thus creating longer and more frequent visits," says Mike Powers, senior vice president of leasing and development at Tuscan Village. "If you just have a destinational retail concept where you pull up, shop and leave, you probably won't go there as much if your household budget is strained."
Such users that highlighted Phase I of Tuscan Village included Maine-based outdoor apparel and equipment retailer L.L. Beane, metro Boston-based grocer Market Basket and Ohio-based Arhaus Furniture. And while Powers realizes that Phase I of Tuscan Village has been highly successful, he also understands that the economic landscape has since shifted.
"In terms of the mix of local versus national retailers, we still believe in curating a balance, but as a practical matter, the local tenant situation is speculative at best," says Powers. "There are a lot of strong F&B operators in New England, but it's somewhat rare to find a local, single-operation retailer with the financial bandwidth to be successful."
Among the marquee brands that recently opened at Tuscan Village are two of strongest fast food chains in the country, Chick-fil-A and Chipotle Mexican Grill. Powers notes that the inclusion of these national brands isn't necessarily a pivot to feature more financially solvent tenants during a period of historically high inflation, but simply a continuation of the strategy of selecting best-in-class operators.
"We try not to take short-term views of consumer behavior just because we're in an inflationary environment, but rather to put together a collection of high-quality, recognizable brands in the F&B space that cater to all socioeconomic price points, experiences and schedules," Powers concludes.
— This article originally appeared in the May 2022 issue of Northeast Real Estate Business magazine.
Full RE Business Article Here