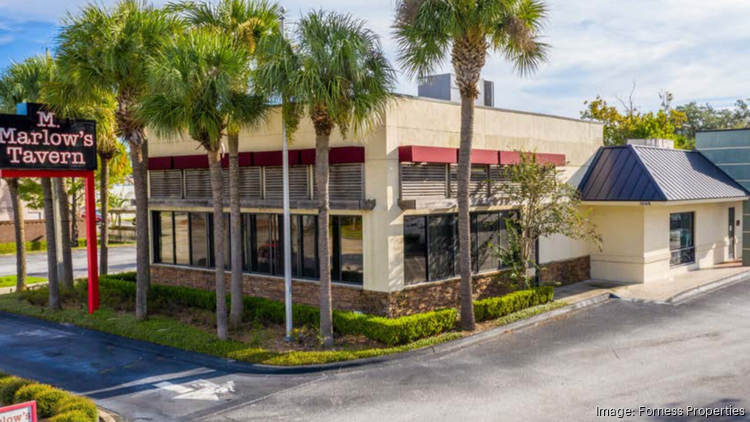 A new tenant will open its doors soon in the space at 1008 S. Orlando Ave. in Winter Park that was formerly home to Marlow's Tavern.
One Life Daily Market, a restaurant and market concept from Orlando chef and entrepreneur Chelsie DiPaolo, will open inside the space in late spring or early summer, Orlando Business Journal has learned.
Additionally, DiPaolo told OBJ the space is large enough to accommodate two original concepts. One Life Daily Market will occupy the east side of the building, she said, while a second concept will be announced soon.
---
Why this matters: One Life Daily Market is actively hiring, DiPaolo said, and eventually will employ over 60 people. Further opportunities likely will come open when the building's second concept is announced, as well.
---
DiPaolo formerly owned local restaurants including Sanctum Cafe and Proper & Wild.
Her new concept will include a restaurant, market, a full bar and a meal subscription service that already has launched. DiPaolo said she is aiming for a holistic range of offerings that collectively can help elevate the health of the local community.
"As a health coach, I believe in the power of eating fresh, real and nutrient-rich foods to optimize health — but as a single, working mom I know there is often not enough time in the day to cook these foods from scratch," DiPaolo said. "I wanted to design something that was more multifaceted than a restaurant to support the community in having greater access to health-filled foods."
One Life Daily Market has signed a 10-year lease for the space with an option for five more years, said Bobby Palta, a senior vice president in the Orlando office of Atlanta-based The Shopping Center Group, who represented DiPaolo in the lease negotiations.
Drew Forness, president of Winter Park-based Forness Properties, represented the landlord.
DiPaolo declined to cite an investment value for the buildout of the space but did characterize it as a "total remodel" and said it will be a "bohemian oasis right here in Winter Park." She added that she has been very active in the design process.
Orlando-based Gainsborough Group is the general contractor, and Dallas-based Jones Baker Interiors + Architecture is the project's architect.
The property on South Orlando Avenue is within the Winter Park retail submarket, which according to CoStar Group data, is the second-priciest submarket in metro Orlando, with rents averaging $36.36 per square foot. That compares very favorably to the Orlando market's overall average of $27.25 per square foot.
The submarket also has a vacancy rate of 2.3%, lower than the region's average of 3.8%.
Meanwhile, the global market for health and wellness foods continues to grow.
The industry was estimated at $764.2 billion in 2020 and is projected to reach a revised size of $1.1 trillion by 2027, said a 2022 Research and Markets report.
Full Orlando Business Journal Article Here