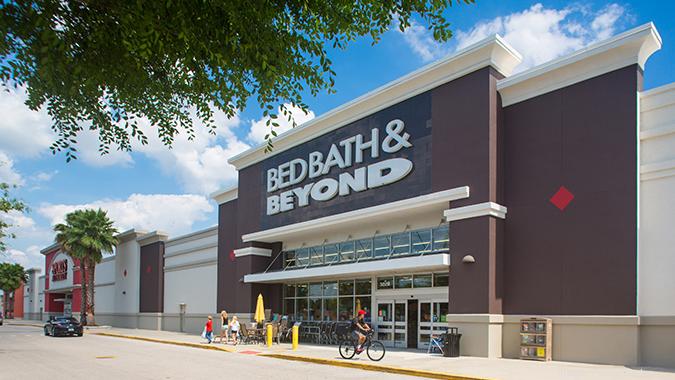 Listen to this article     4 min
Bed Bath & Beyond auctioned off 109 of its store leases earlier this week as part of its Chapter 11 bankruptcy reorganization — and two major national retail brands claimed spaces in Orlando and Winter Garden.
The auction, held by Long Island, New York-based A&G Real Estate Partners, ended on June 26 for 353 Bed Bath & Beyond store leases and 108 leases for the company's related Buy Buy Baby chain.
Discount clothing retailer Burlington won the Bed Bath & Beyond space at 3228 E. Colonial Drive, in Orlando's Colonial Landing shopping center near downtown. It was part of an aggressive $12 million aggregate bid for 44 store leases by the Burlington, New Jersey-based company (NYSE: BURL).
New York-based Macys Inc. (NYSE: M) successfully bid $1.2 million for the Bed Bath & Beyond space at 3215 Daniels Road, in Winter Garden Village.
New York-based MetLife (NYSE: MET), landlord of the Bed Bath & Beyond at 3212 John Young Parkway in Kissimmee's The Loop shopping center, won that store.
Meanwhile, Buy Buy Baby locations in Altamonte Springs and Orlando were not successfully bid on, in addition to Bed Bath & Beyond locations in Daytona Beach, Melbourne and Ocala.
A&G Real Estate Partners released the following auction data on the successful bids:
The 28,633-square-foot space in Winter Garden Village lease is $8.26 per square foot through Jan. 31, 2028, with three options for 5-year extensions.
The 27,761-square-foot Colonial Landing space's $10.75-per-square-foot lease runs through Jan. 31, 2030. with four options for 5-year extensions.
The 24,897-square-foot property in The Loop's lease is $13.75 per square foot through Jan. 31, 2026, with one 5-year option to extend.
The moves by Burlington and Macy's are significant for the local retail market, said local retail expert Bobby Palta, an Orlando senior vice president for Atlanta-based The Shopping Center Group. "That's a lot of movement in one day."
For one thing, discount retailer Burlington has been very active lately, Palta told Orlando Business Journal. Its big play to take over Bed Bath & Beyond stores isn't surprising, since Burlington intends to open 70-80 net new stores this year, the company said in its most recent earnings call for the fiscal quarter ended April 29.
During a call with analysts, Burlington CEO Michael O'Sullivan said the company had its eye on retail bankruptcies and the spaces they might free up, CNBC reported. "We're confident that these bankruptcies will strengthen our new store pipeline."
Meanwhile, the move by Macy's Inc. — which owns both Macy's and Bloomingdale's retail brands — is significant "because there's nothing like that on the west side of town," Palta said. "I'm sure the landlord's not upset about that."
Macy's has been particular about its expansion — especially with its new Market by Macy's concept, which is geared toward non-mall properties like Winter Garden Village, said Bill Read, an executive vice president for Birmingham, Alabama-based Retail Specialists.
"They don't waste bullets – they pick very good real estate."
A spokesperson for Macy's Inc. declined to comment.
Several landlords also were among the successful bidders for Bed Bath & Beyond properties — as in Kissimmee — because it gives them control over what concept could backfill the space for the duration of the lease, Read said.
The successful bidders still have a process to go through, including demonstrating assurance of their ability to make good on their bids, Read said. That process will end on July 18 with a lease sale hearing, where they still have to be approved by the U.S. Bankruptcy Court's New Jersey district.