 Back
Service Areas Used to Be Circles. Geotargeting Has Turned Them into Amoebas

Back
---
Service Areas Used to Be Circles. Geotargeting Has Turned Them into Amoebas
The work-from-home culture has disrupted consumer traffic and shopping patterns just as data evolves to track consumers and gauge their opinions and behaviors more accurately. As the concepts of daytime population, traffic and proximity take on new meanings, retailers and brokers need to reconsider their location strategies, and landlords should rethink how they market their spaces. The standard practice of analyzing specific locations via a one-, three- or five-mile-radius service area is still used, but richer data is available today, said RCS Real Estate Advisory partner Spence Mehl. So "you're not as much looking at 'circles' of data surrounding a location. True trade areas are more amoeba shaped."
Mobile location data and psychographic data are easing that recalibration. Some tracking firms and commercial real estate analysts even sift shoppers' texts, social media and online comments via artificial intelligence and use thus recommend locations. And digital mapping created through software fed by companies like Placer.ai, Near and Graphene can demonstrate where customers are, when and where they came from, how long they stayed, whether the visits were "unique" and where the customers went next.
All of this can lead to better-educated decisions. Mehl noted: "You can't live and die by this data, but it's a great source to verify the information you have."
Granular Data
Feet-on-the-ground analysis has not gone away, said Abbell Associates president of retail and technology Joe Sauer, who also is president of LayerCake, a software offering that helps brokers compare and layer data to forecast trends and evaluate sites. "Using technology is a prerequisite today, but don't use it just because the data or graphs look cool. My clients say you can never dispute real boots-on-the-ground research." Indeed, Rappaport executive director of brokerage Bill Dickinson has visited potential sites with retailers who've walked around a bit and then said, "These are not my customers."
And Joseph Serruya, principal at architecture and design firm RDC, said retail development always has been hyperlocal. "The difference now is that we have more technology tools to use to make critical foot traffic and demographic decisions. While developers continue to use traditional methods to determine the feasibility of each project, geotargeting is a tool that provides a more granular way to target geographic locations via IP address or device ID and to verify contextual surroundings of a specific location."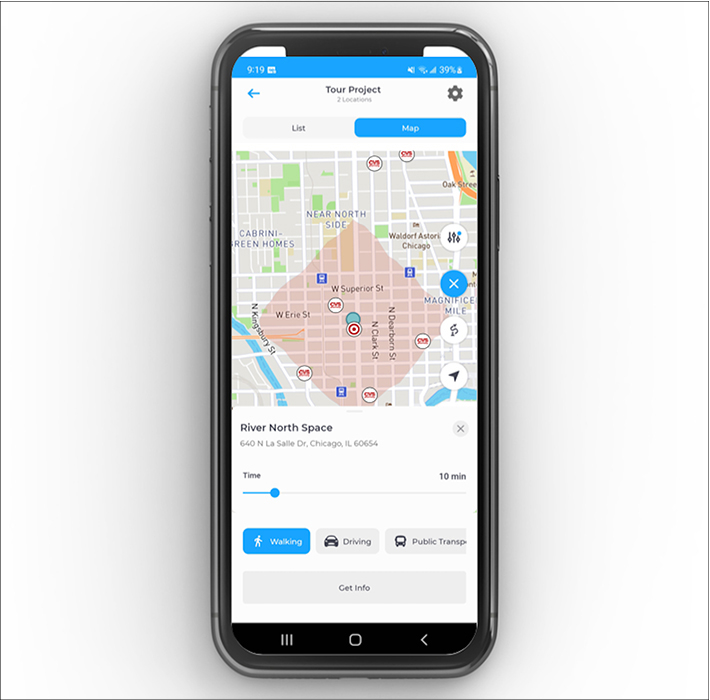 LayerCake's Joe Sauer can us the LayerCake app to see how far 10 minutes of walking, driving or riding public transit will take a person from a specific point, in this case within Chicago's River North neighborhood. He also can drill down into demographics of that area, from population to household income and more.
Unacast co-founder and CEO Thomas Walle said both neighborhoods and trade areas are changing. "Evolving migration and human mobility patterns are essential alpha data for retailers looking for an edge in site selection, competitive intelligence and demand forecasting," he said.
Dickinson said the kinds of companies that can provide data are catching on, obliging retailers to dig deeper. "Data has become more reliable lately because recently, the bank, finance and credit card companies began to work together even more to create richer data. They realized they could all benefit and all make more money if they shared."
Data Sources
TSCG data solutions engineer Mark Favorito can use a retailer's desired demographics to target consumers and then look for locations that match. "We build a road map strategy based on the clients' prioritizations — such as density, population, population growth, income — and psychographic information, such as their behaviors. For example, do they dine out often or engage in recreational activities? We look at these data sets and created personas and profiles," Favorito said.
Data sources are plentiful, and Favorito then lays all the information he gathers over a digital map through a geographic information system, or GIS. For sources of data, Favorito said Esri's Tapestry Segmentation database is useful. He also cited the Mosaic database from Experian and the U.S. Census Bureau. To add more specificity for a medtail client, for example, he'd add data from the American Hospital Directory and the Centers for Medicare and Medicaid Services. TSCG MD broker Craig Gambardella said his company uses medical information available by ZIP code to tell how many people within each ZIP visited, say, an oncology facility or other specialty care. That can help drive medtail location decisions. "This technology has been around for 10 years, but it has become deeper, more robust and more accurate lately," Favorito said.
Meanwhile, data has become more affordable, according to Rappaport director of research and systems development Sebastien Aubouin. "Five years ago, subscribing to a service like this cost six figures per year. Now, it's down to the 10s of thousands.
Smarter Data from AI and Smartphones
Graphene, a Singapore-based AI research company, is relatively new to retailers. It takes unstructured conversations from public, digitally published content, such as reviews or social media posts, and runs it through a proprietary algorithm, filters out the spam/bots and then clusters the data into topics.
The system then measures the negative-to-positive sentiment about those topics, as shared in those communications, on a 15-point scale. For example, it could analyze commentary about whether a location is convenient or is more convenient than another location.
Graphene U.S. chief commercial officer Mike Kalfus said its unbiased reporting and insight on consumer opinion is better than surveys, which are based on what he qualified as biased questions posed by a third party to a predetermined, and thus biased, audience.
Effective smartphone tracking has been the biggest recent breakthrough. Sauer called telemetry data fascinating, adding that the challenge is in the data's validity. "There are many cellphone providers, such as AT&T, Sprint, Verizon and CellularUSA," he said. "Their accuracy levels for user data are going to differ based on a number of factors, including signal strength and retailer density. "If you look at data from 10 phones from a variety of carriers, you hope to get a 20% accuracy rate. So, cellphone data is only one piece of the puzzle. Like a jigsaw [puzzle], you start on the edges and work your way in to solve it." Sauer added that major retailers like Starbucks, quick-service restaurants, Walmart and Target factor cellphone data into site analysis but rely more on their own, proprietary data tracking.
By tracking phones, research firms can determine where a person was before and where they are going next. Dickinson said a phone that regularly stops in a given location from roughly 9 p.m. to 7 a.m. is indicating where the person likely lives. "They can then track addresses or ZIP codes to determine their home's worth or the general financial demographics for those living in that neighborhood," he said. "Checking their phone plans, you can see if they paid their bills on time. Keep in mind, none of this is based on a person. There's no privacy violation. It's anonymous based on a phone account."
Mehl said most of today's consumers are allowing themselves to be tracked, almost "closing their eyes to privacy, [being] OK with some levels of tracking."
JLL retail advisory senior vice president Rafael Romero said technologies that track smartphone data provide snapshots of short-term shifts and give retailers indications of where to focus future growth. "Conservative site selection practices continue to focus on where the customer is, but we are seeing that retailers are increasingly interested in where customers will be," Romero said. "I believe that trend will continue to gain momentum."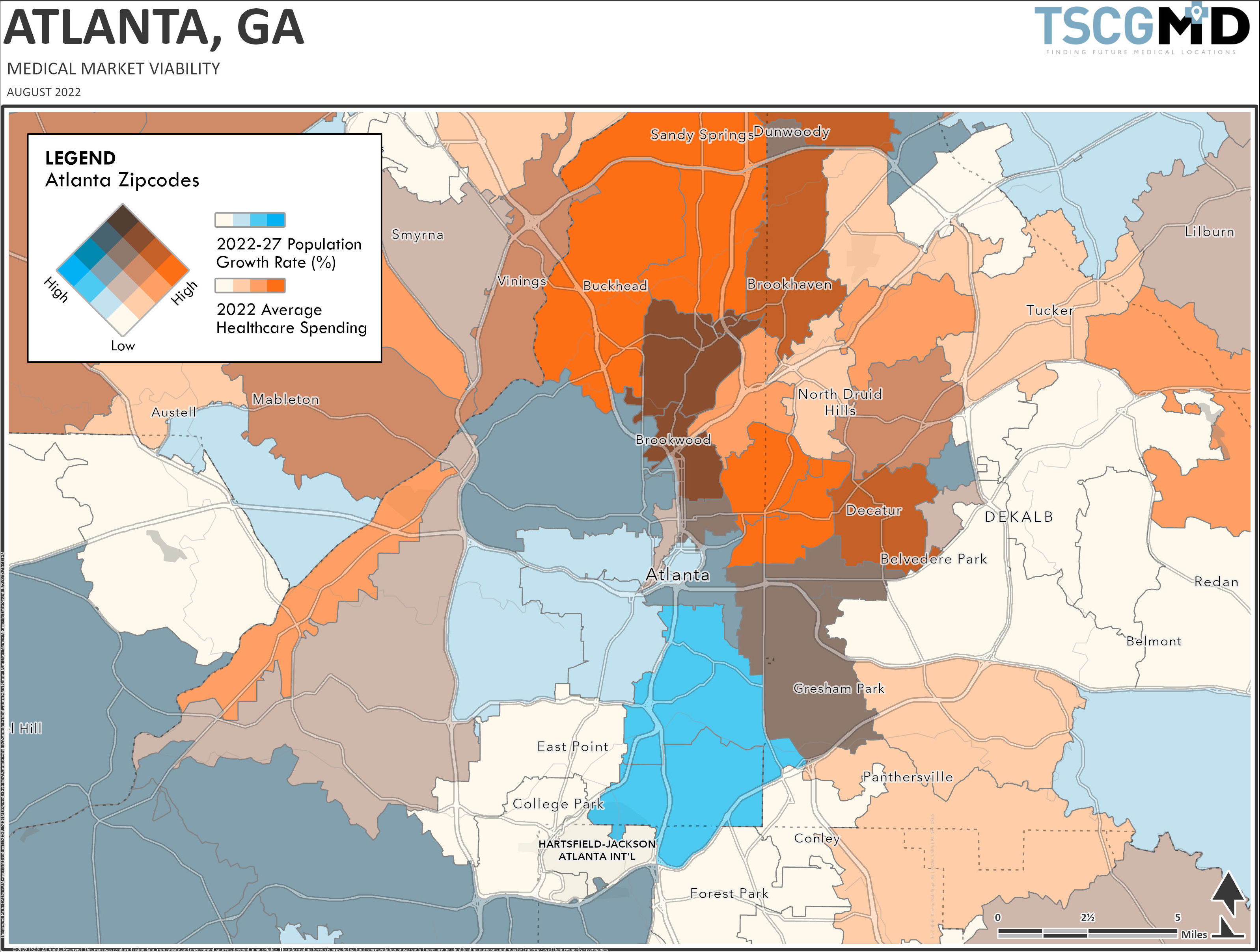 This TSCG MD Medical Market Viability map shows where in Atlanta healthcare spending is high now, where the population will grow the most by 2027 and where those areas overlap. At top is a screenshot from a TSCG app that gives an overview of the demographics and healthcare landscape for New York City neighborhoods.
Cellphone tracking is invaluable when it comes to determining driving traffic patterns. Just look to apps like Waze. "You can track daytime demographics, such as work location, road patterns," Dickinson said. "At Bailey's Crossroads in Northern Virginia, for example, you could see that no one wanted to drive there because it was too congested, given the road patterns during times of day, so retailers looked more toward Tysons Corner [about three miles west], where traffic flowed more freely."
Daytime Traffic Not What It Used to Be
Daytime demographics are changing, though, considering work-from-home tendencies. Sauer said that a couple of years ago, location determination was all about transit-oriented developments. "While that is still something to look at, you have to consider who is walking past those stores," he said. "If it's commuters who do so eight or 10 times a week and never have thought about entering the store, then that's not too valuable. You want to track unique visitors to that area and then supplement that with additional, different data sets."
He said today's work-from-home behavior is a huge factor. "With people at home, there is more e-commerce now," Sauer said. "Consumers are more concerned about the costs to use their cars and pay more attention to where they drive and for what reasons. "In historically prominent retail meccas, such as Michigan Avenue or State Street in downtown Chicago, [daytime] street traffic numbers since COVID have changed. Everything is lower. I don't know the exact number, but it's a threatening, large number."
Medtail, in particular, can capitalize on the daytime population shift. Gambardella said urgent care clinics generally have focused on where the most people are during work hours. That's so they can serve demand around work-related injuries, which serves workers in manufacturing and warehousing, but people working from home now will seek medical care near their homes, such as a nearby strip center. Amazon has recognized the appeal, recently agreeing to purchase One Medical's 188 offices for $4 billion. Subsequently, Dollar General, which has nearly 18,000 stores, convened an internal panel of healthcare experts to discuss how it might expand healthcare offerings at its stores, perhaps adding optometry, hearing aids, delivery and prescription services.
"We've been seeing a shift with preventive care and outpatient centers from a main campus hospital setting to a community setting," Gambardella said, and hospitals "are now competing with CVS and Walgreens and Walmart for patients." He added: "The medical industry finds that they can achieve better outcomes and attract patients who live close by before they would visit a main hospital."
Given that the work-from-home phenomenon is relatively new, Favorito said, data analysts need to be patient to allow data to build up.
Buying Closer to Home
Mehl said today's data has landlords amending strip center leases to OK certain tenants that were not allowed before — such as secondhand stores, medtail and service providers – because data shows they will increase traffic.
PREIT CEO Joseph Coradino said the recent suburbanization trend has benefited the company's portfolio and asset values, as people are buying closer to home. "It has driven significant sales increases, resulting in not only increased revenue but improved demand from expanding tenants," he said. "In 2021, we had a record-breaking year in new leasing and continue bringing new tenants into our properties." He added: "Malls have evolved so much over the years, incorporating great restaurants and entertainment facilities, that our customers really can get similar experiences in the suburban setting to what they used to have to travel into the metropolitan core for."
Given inflation and overall economic volatility right now, Sauer said, "you have to plan conservatively for the future when it comes to adding stores and locating stores. "You have to be conscientious about your growth trajectories. How are you going to meet the changing needs of brick-and-mortar shoppers?" He said many retailers are taking a wait-and-see approach, even for what they consider to be strong locations. "This caution isn't a bad thing," Sauer said. "It will ensure that physical retail can stay profitable and continue to meet the needs of their customers."
Full ICSC Article Here